Products
Salinity Sensor System on vehicle
Salinity Sensor System on vehicle

Salinity Sensor System on vehicle
Just by driving in a patrol cars, the status of anti-freeze agents on the road can be determined.
Making snow and ice work more efficient, safe and time-saving.
By measuring the temperature of the road and the residual salt concentration of anti-freeze agents on the road while driving a car, it is possible to obtain roadside information.
This product measures and visualizes measured data linearly, automatically and in real time, and calculates the salt concentration necessary to prevent freezing. This helps to optimize the work of spreading anti-freezing agents and reduce the amount of salt damage.

Product Features and Benefits
[On-vehicle system enables measurement of long routes at the right time]
Key Features
Hand-held sensors can only measure at a point, but on-board sensors can measure linearly.
Designed for car mounting to ensure the safety of the operator (no need to measure outside the car)
The situation can be recorded and viewed clearly with specialized software.
Detailed Features
As this is a car-mounted system, there is no need to stop and measure outside the car.
Contributing to the safety and efficiency of measuring work on freeze-fighting agents
Using the measured salt concentration and road temperature data, it is possible to efficiently spread freeze prevention agents.
---
Functions
Features of the Salinity System on Vehicle
Real-time (1 sec) measurements
Measurement data is displayed in the car and monitored remotely by a transmission device.
Measurement data can be used for additional application of anti-freeze agents.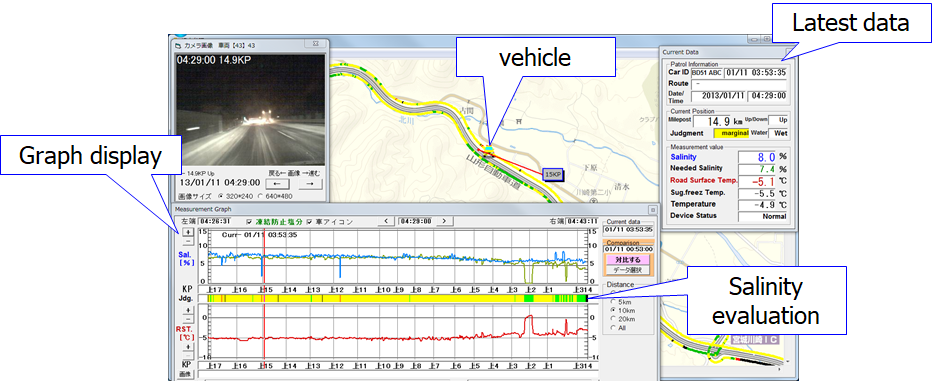 [ Salinity Sensor System Viewer ]
[ Monitoring Demonstration ]
---
Product Specifications
Product Photo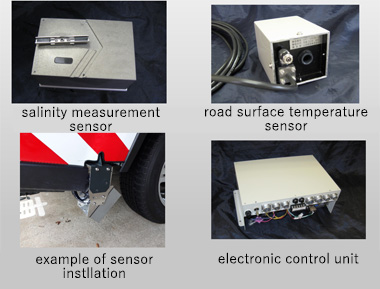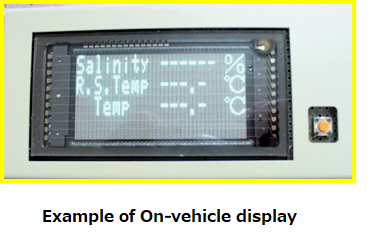 Notes.
Water is required for the measurement. When the surface of a dry or snow-covered surface with insufficient water to lift the tires, measurement is impossible.
---
FAQ
Can the sensor measure anything other than sodium chloride (NaCl)?
Answer
The following can be measured.
Sodium chloride (NaCl), calcium chloride (CaCl2) and magnesium chloride (MgCl2).
Can the sensor measure on porous pavement?
Answer
If the tire bounces up the measurable amount of moisture, it can be measured.
In some cases, even on dense-grained pavement, if there is no moisture bounce, the measurement cannot be made.
How do you store them outside of the winter months?
Answer
The salinity sensor part should be removed from the vehicle for protection and inspection purposes.